Birds Eye is one of the most important brand names in the history of the frozen food industry. Clarence 'Bob' Birdseye was single-handedly responsible for a major early breakthrough in the development of the methods and technology that made freezing a viable way of preserving food. Today, Birds Eye continues to develop nutritious and convenient products for Australian families.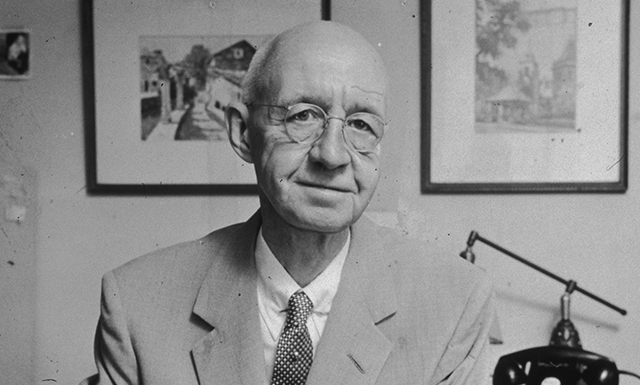 1910 DISCOVERY
While studying biology in the arctic winter, Clarence Birdseye notices that freshly caught fish placed on the ice, freeze solid almost immediately, yet still taste fresh when thawed.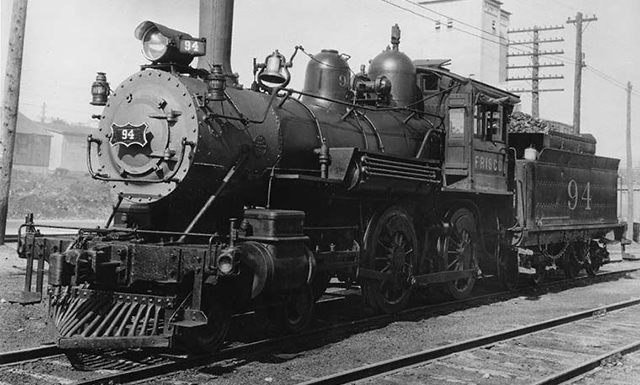 1920s TECHNOLOGY
Clarence designs and patents his Quick Freeze Machine, builds the first frozen food laboratory and develops a full line of frozen foods designed for commercial sale. He also develops super insulated railroad cars that enable the safe transportation of frozen foods over long distances.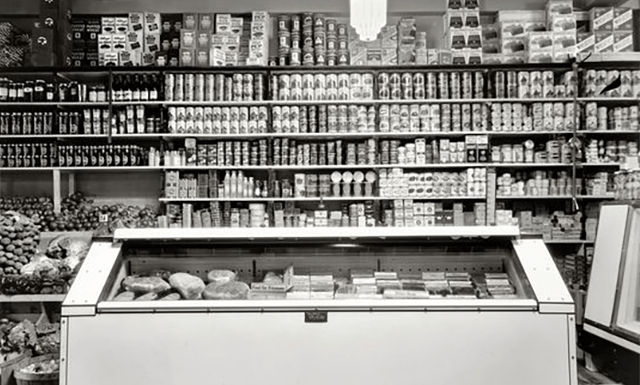 1930s IN STORES
The first products under the Birds Eye name become available in store - mainly vegetables, meat and some fruit. Consumers are amazed at the convenience offered by these ready-to-cook products.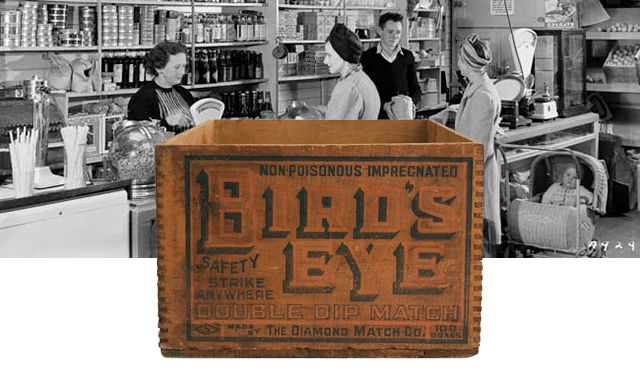 1940s TO AUSTRALIA
Amidst the food rationing of the war years, quick frozen vegetables become available in Australia. In 1949 the first vegetables are specially grown and processed in NSW for sale under the Birds Eye brand. Production later expands to Tasmania.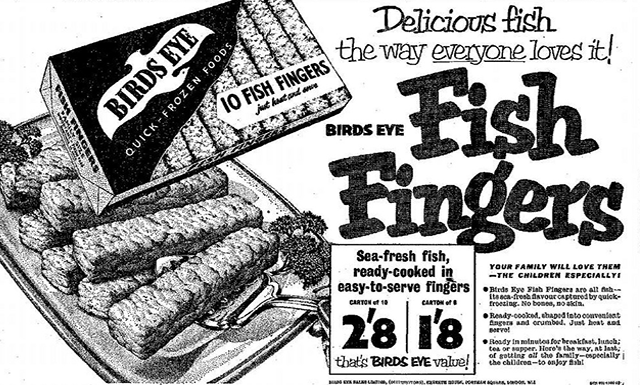 1950s FISH FINGERS
In 1956 Birds Eye introduces the Fish Finger as an ideal way to encourage Australian children to eat more fish. The Birds Eye Fish Finger will go on to become an icon. The number of Birds Eye Fish Fingers sold in Australia each year laid end to end, these Fish Fingers would be twice the length of the Great Wall of China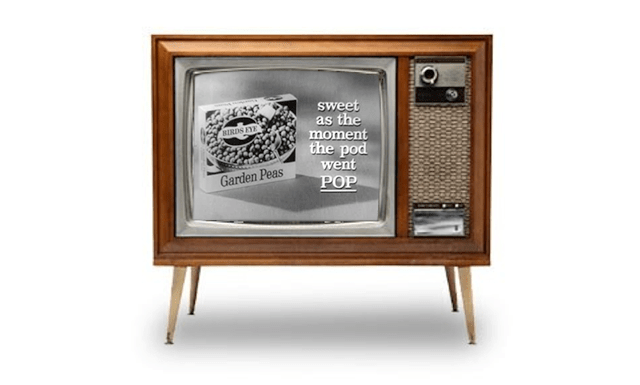 1960s TELEVISION
Frozen Peas and Fish Fingers become ever more popular and Birds Eye begins advertising on television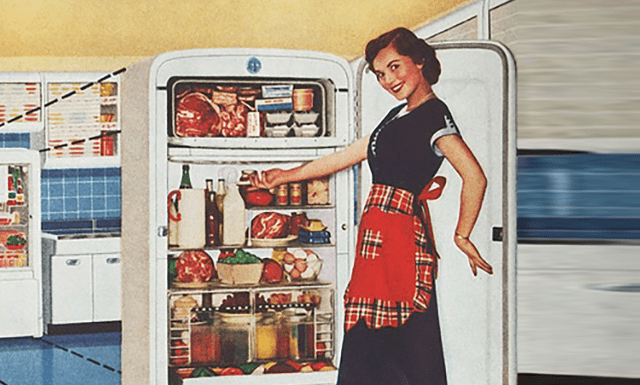 1970s FREEZER FAMILIES
A third of all Australian households have a freezer in 1976. Most freezers can hold a months worth of food for an average family, so Birds Eye introduces larger packs to provide more value for the 1970s "Freezer Family". The "decade of the quiche" also sees Birds Eye depart from traditional vegetables to introduce a Vegetable Flan.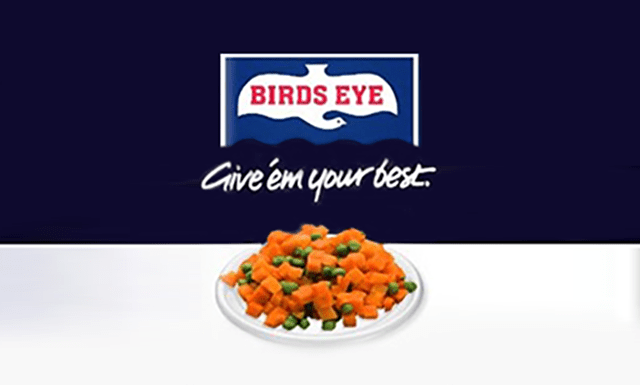 1980s GIVE 'EM YOUR BEST
Birds Eye undertakes extensive market research, which reveals 9 out of 10 Australian mums understand that Birds Eye's "Time Lock" snap freezing method retains much of the vegetables' nutritional value. Birds Eye also introduces the "Give 'Em Your Best" tagline. Australians will identify that tagline with Birds Eye for the next two decades.
1990s LEADING THE WAY
Birds Eye introduces a range of chips and wedges cooked in cholesterol free Canola oil, as well as launching Oven Bake fish portions. Oven Bake quickly becomes the Australian favourite and has remained that way for the last 20 years. At the end of the decade, Birds Eye introduces Create a Meal, the first frozen meal starter with vegetables and sauce.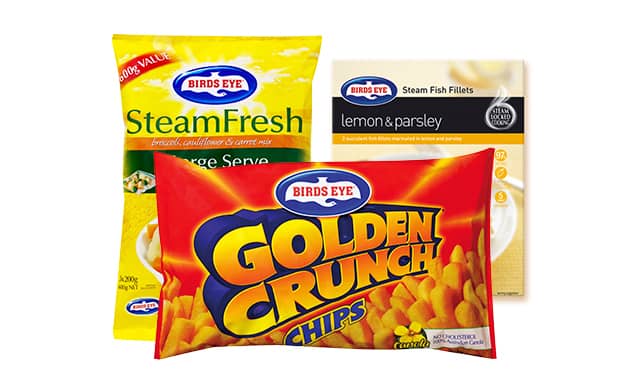 2000 INNOVATION
Birds Eye continues developing and launching new products, like Golden Crunch chips and wedges, the crunchiest, tastiest chips and wedges to ever come out of the oven. In an industry first, Birds Eye launches Steam Fresh vegetables and Steam Fish for a convenient and nutritious offering.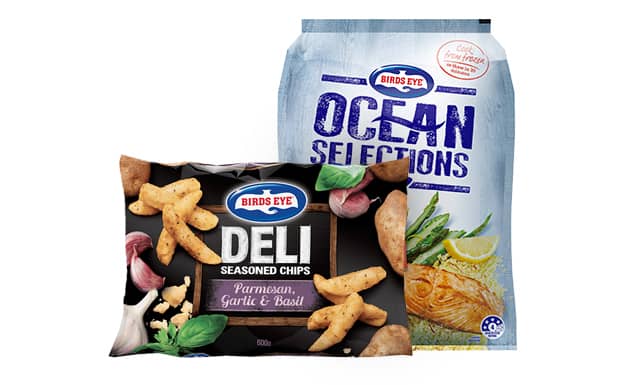 2010 CONTINUING SUCCESS
Continuing with a theme of providing the best tasting products, Birds Eye developed a premium Deli range of flavoured chips, roast vegetables and fish for those wanting a restaurant-style experience at home. Ocean Selections also launched the closest thing to fresh fish in the freezer, with a variety of individually wrapped fish fillets suitable for every recipe requirement.